News
REAL PEOPLE REAL STORIES
by admin thedivinefoods on Feb 10, 2022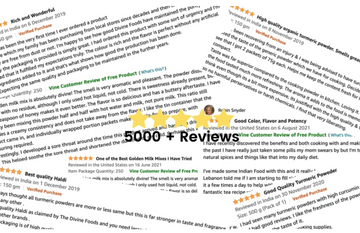 REAL PEOPLE REAL STORIES 
Tasty and Healthy ⭐⭐⭐⭐
"Turmeric has an incredible amount of health benefits as you might already know.This Golden milk mix from the divine foods is in easy way of adding some taste and health to your everyday drinks.It will help you Boost Your immunity and help with your metabolism."
Superb Quality with great smell and color. Tastes wonderful being an organic turmeric powder ⭐⭐⭐⭐⭐
"Turmeric is a wonder spice that is antiseptic and have healing properties.However the low quality turmeric powders we normally use are unhealthy.I am more than satisfied with the quality of this turmeric powder."
Best honey ever ⭐⭐⭐⭐⭐
"Must Give it a try!!! My brother who tested positive for Covid had a really bad cough for days. After reading the comments I decided to buy a package and give him some, he called me this morning to let me know the cough has most gone. I have given some to few people I know who also been having a bad cold and got the same results".
Simply Awesome ⭐⭐⭐⭐⭐
I have been looking for a turmeric based soap for some time and came across this product. I ordered it because it is organic and handcrafted. It is completely natural and i can feel the difference of using a natural soap and a chemical soap. It is free of chemical which is why it is suitable for all skin types as most of my family members are using it without any issue.
Daily Morning Routine ⭐⭐⭐⭐⭐
During my Menstruation, I used to have this. Every morning, I used to take 1 tablespoon of Honey shots Gulkhand on an empty stomach. I can say this is a pure Honey!
 Totally different from other brands 🌟🌟🌟🌟
"Just check to compare the ingredients chart they have given, that is enough to understand the value of this product. It is beneficial for kids because turmeric helps in the growth of a child. Good nutrition and stimulation suitable to the child's age are crucial for brain development, immunity and physical growth. This pack of wonder has it all in form of turmeric and pepper powder which needs to be consumed as a beverage."
 Excellent handcrafted soap under a tiny budget 🌟🌟🌟🌟🌟
"Handmade soap lovers, this one's gold if you're looking for one. This curcumin soap from Ayur Glo is one of the best ones I've used till now. It has a great aroma and has a very gentle cleansing effect on your skin. This is a very good soap to use, especially on the cold winter days that are on their way. The affordable price also means that they make a great gift option for any of your loved ones more into this kind of thing. I have no concerns recommend this to anyone who's a fan of premium handmade soaps that don't break the wallet."
 All You Need To Know 🌟🌟🌟🌟
"Right from the go, the color of the turmeric will show that it is organic and how it is different from the chemical turmeric we buy from the market. The packaging is really good and you can use as much as you need and use the air-tight seal to preserve the rest. The company claims it to be fully natural and organic and the product comes directly from farms and that too of the same harvest year. Curcumin is the most important ingredient in turmeric and this product has a high percentage of the same. There is no doubt that I will no more buy chemical turmeric and I will stick to this organic turmeric in the long run."
 Tasty Spread 🌟🌟🌟
"Recently got introduced to this unique rose flavored honey and my personal experience is really good. I use this as a spread for my bread or chapati and it's just good to go. The taste is great and pure as they claim it to be. Highly recommended."
 Loving It 🌟🌟🌟🌟🌟
Shots concept is just amazing. You can carry it anywhere & have your honey combination. It is cute & healthy at the same time  I like it, as it is (truly organic with no flavor), morning with milk or bread honey is just cool. Easy to carry💕