News
SPEND A COOLER SUMMER WITH GULKAND
by admin thedivinefoods on May 27, 2022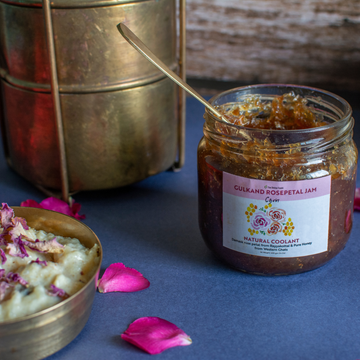 Quick recipes :
 Gulkand Shake - Will be loved by your little ones 
Ingredients:
1 Cup chill milk 

1 tbsp gulkand 

1 tsp rose syrup 

3-4 cubes ice cubes
Method :
Combine all the ingredients together in a mixer and blend well.

Serve chill 
Gulkand Shrikhand -Quick and healthy dessert in no time 
Ingredients :
2 Cups Hung Curd

1/4 Cup Powdered Sugar

½ Tsp Cardamom

1 Tsp Rose Water

¼ Cup Gulkand

Chopped Pistachios Fir Garnishing

Crushed Rose Petals For Garnishing
Method :
Take a mixing bowl and put hung curd in it.

Add sugar, rose water, gulkand, and cardamom powder. Whisk it well.

Pour it into a piping bag and pipe it into a glass or a bowl.

Garnish well and serve it.
Gulkand Milk - Easy way to have a healthy cup of milk 
Ingredients :
1 cup milk 

1 Tbsp gulkand 
Method :
Boil milk for 5 mins 

Switch off the stove and add milk to a cup and add gulkand to it 

Mix well and serve.
Gulkand Bahar- Best Combination of lemon and gulkand juice 
Ingredients :
60 Ml rose syrup

45 ml lemon juice

25 ml sugar syrup

25 ml ginger juice

Soda or water to top it up 
Method :
Take a  glass and add 4 to 5 cubes of ice.

Now add rose syrup, ginger juice, and lemon juice, and then top it up with soda/Water.
Gulkand smoothie- beat the heat with super nutritious food 
Ingredients:
1 cup chill milk 

1 scoop of vanilla ice cream 

½ tsp vanilla essence 

½ banana chopped 

1 tbsp gulkand 
Method :
In a mixer add all ingredients and blend it well until smooth 

Serve chill.